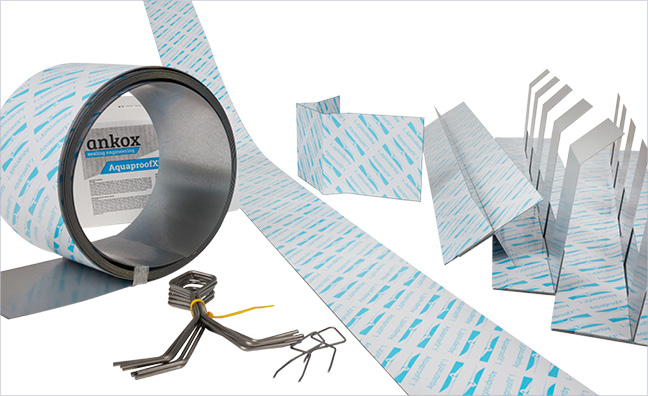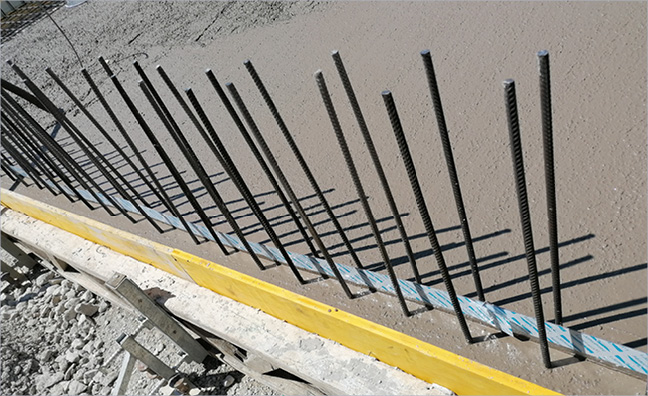 For the internal, strip-form sealing of construction joints and crack-control joints for cast-in-place concrete or precast wall elements
Features
AquaproofX® 1 is coated on one side with a reactive polymer coat that forms a permanent, highly adhesive, water-impermeable bond to the surrounding concrete. AquaproofX® 1 thus offers extremely high waterproofing security as a result. AquaproofX® 1 is resistant to organic wastewater. Connecting to expansion joint waterbars is possible without any problems with the aid of a special connector. Special order dimensions can also be supplied.
Uses
AquaproofX® 1 is suitable for all typical construction and crack-control joints: floor slab/ floor slab, floor slab /wall, wall/wall, wall/ceiling, ceiling/ ceiling. Installation is carried out with the coated side towards the water. With regard to construction joints, AquaproofX® 1 is mounted to the upper rebars. An embedment depth of 35 mm is perfectly adequate. Matching accessories simply the installation. In a precast wall element, the strip is installed along the crackcontrol joint (vertically aligned) using pre-mounted fastening clips arranged on the water-bearing side. In the area of a crack-control joint in cast-in-place concrete, special fixing brackets not only ensure the strip's secure positioning but also purposefully weaken the cross-section thus inducing the desired crack.
Art.-No.
Article
S03111002
AquaproofX® 1 10 (2 m)
PU 30 m
S03111006
AquaproofX® 1 10 roll (6 m)
PU 6 m
S03111402
AquaproofX® 1 (2 m)
PU 30 m
30 bundles per pallet = 900 m
S03111406
AquaproofX® 1 roll (6 m)
PU 6 m
84 rolls per pallet = 504 m
S03111410
AquaproofX® 1 with integrated base (2 m)
PU 30 m
30 bundles per pallet = 900 m
S03121406
AquaproofX® 1 Set roll (6 m)
PU 6 m
84 Sets per pallet = 504 m
S03510002
Push bracket
PU 15 Stk.
S03510155
Omega fixing clip
155 mm height
PU 100 Stk.
S03530001
Expansion joint connector
S03540030
Metal waterstop fixing bracket
PU 40 Stk.
Downloads