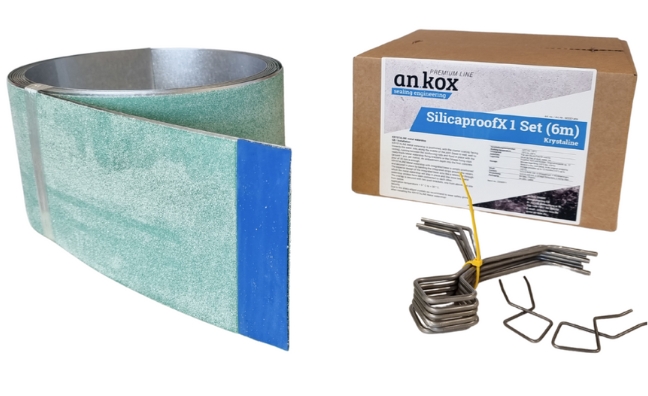 SilicaproofX® 1 is a single side coated metal waterstop for sealing construction joints in reinforced concrete structures. SilicaproofX® 1 builds up its function once the coating gets in contact with humidity/water. In first instance the crystals integrally bond to the concrete. In second instance the coating below the crystals start to swell which will initiate a swell pressure to build up.
Art.-No.
Article
S03351402
SilicaproofX® 1 (2 m)
PU 30 m
30 bundles per pallet = 900 m
S03361406
SilicaproofX® 1 Set roll (6 m)
PU 6 m
84 sets per pallet = 504 m
S03510002
Push bracket
PU 15 Stk.
S03510155
Omega fixing clip
155 mm height
PU 100 Stk.
S03530001
Expansion joint connector
S03540030
Metal waterstop fixing bracket
PU 40 Stk.
Downloads