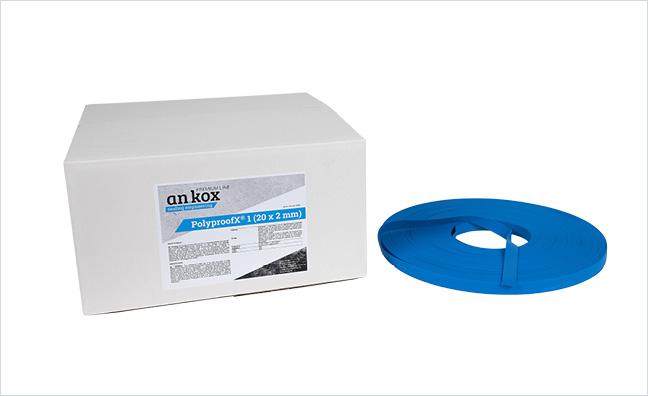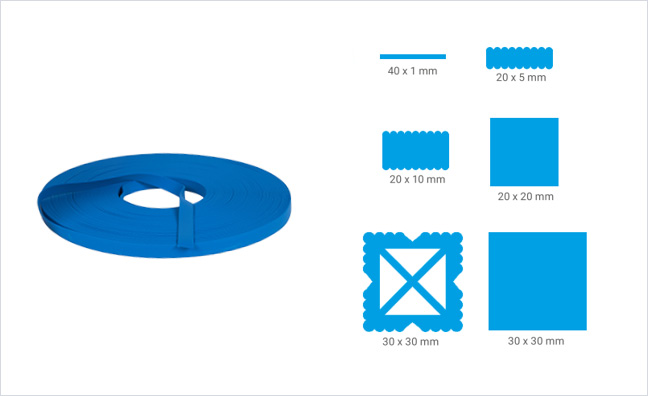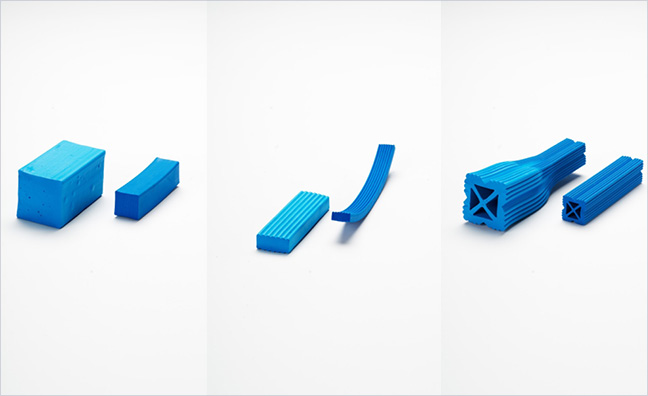 Ideal for use in construction joints and expansion joints.
Features: Highly versatile for all situations.
Made of thermo-plastic elastomer (TPE), it is the waterbar's swelling action that seals the joint. This is triggered by water contact although swelling is initially retarded. It retains its shape, is permanently elastic and is temperature-resistant. Its resistance to numerous chemicals makes it extremely versatile. There is a suitable profile for each joint type. For expansion joints the 30 x 30 mm PolyproofX® 1 profile is used. For sealing internal construction joints the smaller PolyproofX® 1 profiles are ideal. The dimpled profile with dimensions 20 x 5 mm and 20 x 10 mm are available as a salt water variant. Other profile shapes are also available on request.
Uses: Ideal for chutes and precast constructions
A wide range of applications make PolyproofX® 1 the perfect product for chutes, precast constructions and tubing applications. It is particularly suited for sealing biogas plants, sewage works, rain water overflow basins, liquid manure bins, etc. Installation is simple: it is fixed using the appropriate an.kox Contact adhesive SuperX® 1 to the first concrete section. Pressing the waterbar lightly into the adhesive ensures it is kept in place during concreting. Moisture penetration will cause PolyproofX® 1 to begin to swell
Accessories
Fixation either by fixing mesh with a distance of the fixation plugs/ nails of maximum 15 cm or by bonding with Contact adhesive SuperX® 1. If the substrate surface has a rough structure the fixation of the hydrophilic waterbar by means of Polymer-swellingpaste SX® 100 is recommended.
Art.-No.
Article
S06212005
PolyproofX® 1 20 x 5 mm
PU 140 m
5.040 m per pallet
S06212010
PolyproofX® 1 20 x 10 mm
PU 70 m
2.520 m per pallet
S06232020
PolyproofX® 1 20 x 20 mm
PU 70 m
2.520 m per pallet
S06233030
PolyproofX® 1 30 x 30 mm
PU 30 m
600 m per pallet
S06223030
PolyproofX® 1 hollow-chamber 30 x 30 mm
PU 30 m
600 m per pallet
S06254001
PolyproofX® 1 40 x 1 mm
PU 600 m
S06312005
PolyproofX® 1 20 x 5 mm SW
PU 140 m
5.040 m per pallet
S06312010
PolyproofX® 1 20 x 10 mm SW
PU 70 m
2.520 m per pallet
Downloads